Look No Further
If you are looking for Madison pet grooming services, then contact us at Whitworth Animal Clinic to set up an appointment with our professional groomer, Shannon McKinney. With many years of experience, Shannon has worked with Whitworth Animal Clinic since 2007. Not only does Shannon do an outstanding job making each and every pet she works with beautiful, but she provides a calming influence that gradually trains your pet not to be afraid of getting a haircut, bath, or other grooming services like a nail trim.
Pet Grooming: Shannon Has the Magic Touch
Shannon doesn't just provide basic grooming services. Instead, she screens each animal for potential skin issues or ear problems in the course of a routine appointment, alerting Dr. Whitworth or one of the Whitworth Animal Clinic staff members to a possible issue. Additionally, Shannon enjoys providing owners with grooming maintenance tips like the latest brushing methods in order to keep your pet's hair brushed and skin healthy between grooming appointments.
A good groomer is hard to find.  That's why we recommend going to Whitworth Animal Clinic in Madison, AL, where you will find a GREAT groomer.  No one will take care of your pet like Shannon who is devoted to making your pet look and feel great.  Call today to make an appointment.  See what the difference is between good and GREAT.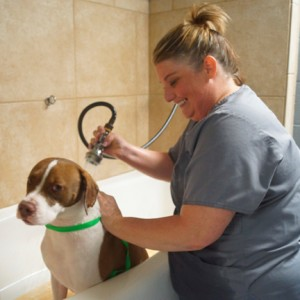 Grooming Makes You and Your Pet Happy
If your dog/cat is dirty, matted, or shaggy, it's time for professional help. It's important to select the right professional for your pet. Shannon is a trusted professional who will care for your pet like it was her own. When you bring your pet to Whitworth, Shannon will consult with you about the appropriate haircut/style for your dog's breed and make suggestions for services such as flea treatment. Whitworth's expert groomer will make your dog or cat look great.
Special Treatment
A day at Shannon's "spa" begins with a special bath and conditioning.  The treatment includes ear cleaning. After a nail trim, the glands are expressed. Once the bath portion of the treatment is complete, Shannon will style your dog or cat's coat.  Sometimes it's necessary to do some "sanitary" or paw trimming.  She knows how to use all types of tools to style specific breeds. A bath can make you and your dog feel better.
Trust Us With Your Pet
A good professional dog/cat groomer is hard to find.  Whitworth Pet Vet has an expert who loves animals.  Whether your pet is a wiggly puppy or a senior with special needs, you can be sure that he will be well taken care of by Shannon and the staff at Whitworth Animal Clinic.
---
Madison, Alabama, is a beautiful city where Dr. Whitworth is a popular veterinarian.  He and his staff love to take care of your pets and make sure they are healthy and happy.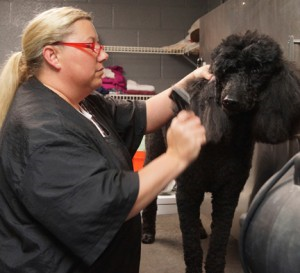 Because there is uniqueness in style with certain breeds or particular features you like for your pet, our pet grooming prices are not listed online. Shannon will be happy to speak with you about an estimate. She works by appointment, so please give our office a call to make sure your pet is on the calendar.
To learn more about our grooming services in general, to discuss package pricing, or to reserve an appointment with our Madison pet-grooming professional,  give us a call at (256) 830-1503.