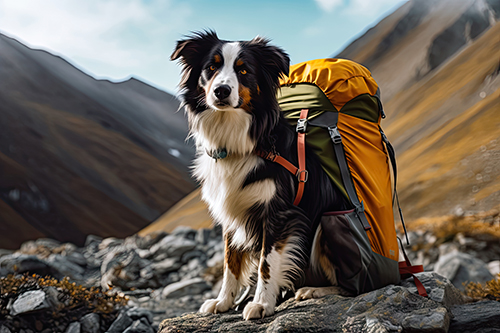 Dale Evans and Roy Rogers said it best, "Some trails are happy ones, Others are blue". In order to make sure all your trails are happy, make sure to get prepared for hiking with your dog.
Fall can be one of the best times to go hiking with your dog!
Fitness First
Just like humans, puppies and adult dogs need training to prepare for day hikes. Start with short walks to begin conditioning and toughen the paw pads. Add additional mileage to increase endurance.
Don't take puppies hiking until they have had all their shots.
Check with Whitworth about your pup's readiness for hiking.
During the conditioning period, do some research and purchase special equipment needed for hiking with your dog.
Gear Up
Pack harnesses are available for all dog sizes. Some harnesses have handy built-in water reservoirs, and others have handles to help lift the dog or guide him through rough terrain.
The loaded pack should not total more than 1/3 of your dog's weight.
The pack should fit snugly between the nape of his neck and hip bones.
Make sure the harness is snug enough to prevent escape but loose enough to avoid chafing. Experts recommend sliding two fingers under the straps to ensure correct fit.
Before the first hike, acclimate your pet to the harness/pack. Let him wear it around the house and on walks to get used to it.
Hiking Hydration
Carry a collapsible water bowl. Dogs, like humans, need hydration—8 oz. of water every hour.
Dogs can get giardia, a troubling intestinal parasite, from contaminated water in streams and other outdoor water sources. You and your pet should be drinking fresh, clean, treated water.
Snacks on the Go
Buy protein-packed snacks for the pet on-the-go.
First aid for your pet
Paw pads can get cut or injured while hiking. Take a sock and some duct tape to create a protective bootie in case that happens.
Make sure your pet is protected against ticks. Check carefully after hiking and remove ticks if you find them.
Plan the First Hike Carefully.
Search by state for great dog-hiking adventures.
Find an easy, paw-friendly path for the first hike.
Look for shady, leaf-padded paths.
Stay away from trails shared with horses or motorbikes.
Avoid steep, rocky trails.
Rules of the Road
Keep pets leashed around other hikers, bikers, and horses.
Hikers with dogs should yield the trail to hikers without dogs.
Bring bags for dog waste, double bag, and make sure it gets in a trash can at the end of your hike
Aprés Hike
Feed your canine friend his usual evening serving of food and an additional 30% to make up any calorie deficit for the day.
Make sure to give your pet lots of fresh water and love.
Enjoy hiking with your pet, and don't forget the immortal words of Dale Evans and Roy Rogers:
Happy trails to you,
Until we meet again.
Happy trails to you,
Keep smiling until then.