Adopt a Shelter Pet Month is October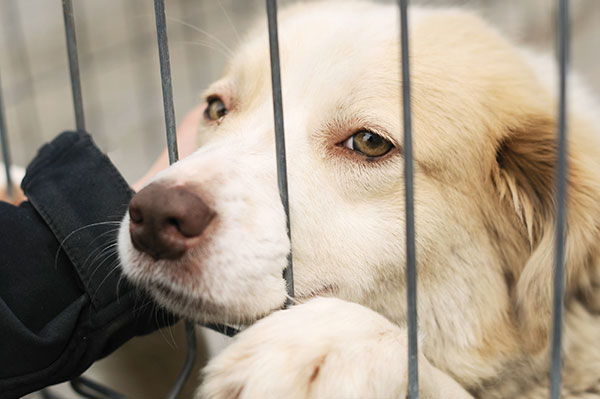 Adopt a shelter pet month is sponsored by both ASPCA and the Humane Society. Animal shelters and private pet rescue groups are overflowing with dogs that are just waiting for their person to bring them home. Once you adopt from a shelter, you'll adopt from that point on. When we adopt a pet from a shelter or rescue facility, we save an animal's life. It's that simple. And you know, those animals can sense that, rewarding you with trust and love their entire lifetime. This quote (author unknown) says it all:
"Saving the life of one animal may not change the world, but the world will surely change for that one animal".
Sadly, so many animals in this country are bought on impulse, as a gift, or by pressure from family members, only to be ignored, uncared for, mistreated or abandoned when the realization that owning a pet is a responsibility and requires commitment that they weren't prepared for, or are unable or unwilling to fulfil. Through no fault of their own, many animals, the majority dogs, face euthanasia if not adopted within a specified time period if they end up in certain facilities which do not sponsor a "no kill" policy. The truth is – over 3.7 million homeless animals are euthanized a year because they couldn't find someone to adopt them. The lucky ones are cared for in foster homes, "no kill" shelters, or private rescue organizations.
During Adopt a Shelter Dog Month, we focus on how we can impact the fate of even one of "man's best friend" – the dog. Loyal and loving, dogs are social animals who thrive on being part of a family, even if it's only a family of one. Recent studies indicate (although dog lovers already know this) that dogs are smarter than most people give them credit for, and when abandoned or neglected, become confused, sad and scared. They don't know what they may have done wrong to deserve the loss of their family. Every dog deserves a real home. Help a shelter dog rescue a human today.
Embracing Pet Parenthood
Whether this is your first shelter pet, or you don't even count anymore, joining the ranks of adopted pet parenthood means you have taken the step to accept the commitments and responsibility of pet ownership for life, as discussed in our September blog. The moment you walk into an animal shelter you will be bombarded with hopeful faces, sad faces, scared faces, and maybe a face you know instantly is meant to be yours. So before the two of you fall in love, the really hard decisions must be made:
•  Which animal species companion camp do you fall into, cat or dog?
•  What age range works for your family – if you have young children, a puppy may not be your best choice. A medium-sized dog over five months of age that is already house trained and can handle a little rougher handling may be more appropriate for more energetic families.
•  What breed (or nonbread for that matter) has the characteristics and personality that mesh with your lifestyle? If you have children, what ages are they? Some smaller breeds, special needs animals, or high strung dog breeds, may not be appropriate for little children. How will care responsibilities be divided up? Does anyone have allergies? How much space do you have? Are you a "go-getter" or a "couch potato"? There are many variables to consider in your ultimate choice once you are faced with a shelter full of potential companions.
Shelters are brimming with purebred and mixed-breed dogs of all sizes, shapes and temperaments who are longing for a home. Mixed-breeds are typically more highly represented in a public shelter, and may not have as significant health issues often associated with specific purebred breeds. A specific breed of purebred may not always be available in a public shelter, so it may take a little longer to find the "one", so as an alternative, it is recommended that you contact a private or breed specific rescue organization. Before you decide absolutely on a specific breed of dog, the ASPCA recommends that that the best pet/people matches are based on compatible personalities, not on what a dog looks like. Therefore, instead of having a pre-conceived choice of dog, it is preferable to visit a shelter or rescue home in person. The available animals will range widely in size, age and personality type, and the facility staff will be able to help you to find a pet who fits best with your personality and lifestyle.
What Do I Have To Know about Adopting From a Shelter?
Adoption policies differ between types of shelters. Larger shelters, such as those operated by a city or county, usually allow you to fill out the paperwork and adopt same day, although some do require a reference check or home visit. The public facilities tend to have a higher representation of larger breed dogs. Private rescue groups may either be breed or size specific, and tend to have more stringent policies about adopting, such as detailed applications, requiring references, visiting your home, or matching the dog to the responses on your application, so the process may take longer, although it does promote greater adoption security. Although this doesn't make a larger shelter facility dog less worthy of adoption, there may be some benefits to this lengthy adoption process: the dog's temperament is a known entity so a more accurate match can be made (or application denied); the dogs usually have been kept in a foster home environment as opposed to a cage, which usually means a healthier, calmer and usually housebroken dog; and often are owner released so they have vet records and a known history.
Adopting from a shelter usually involves the following steps:
•  You will fill out an information form which includes what could be considered a "canine-ality" assessment.
•  You can then walk through the shelter and meet the available dogs. If you fall in love at first sight with one of the dogs, you may socialize with the dog in a playroom or run area. It's important to have plenty of hands-on interaction and opportunities for bonding before you make your decision
•At this point you may opt to fill out an application. Requirements for identification vary among facilities, but a valid driver's license or other picture ID, plus documentation of proof-of-residence is usually required.
•  If you have existing pets at home, it is a good idea to bring them to the shelter before you bring your adoptee home to meet and socialize with the potential pet just to make sure no aggression issues are immediately apparent.
Whitworth Animal Clinic Resources
When you adopt a shelter pet from a shelter or rescue group, you'll not only be removing one animal from the consequence of overpopulation, you are also giving a dog a chance for a home and family. Whitworth Animal Clinic, providing veterinary services to pets from Madison, Huntsville, and the surrounding Madison County areas, can provide you with a wealth of resources on their RELATED LINKS page to make your adoption process flow smoothly, as well as provide expert and compassionate pet wellness care for your new furry family member.