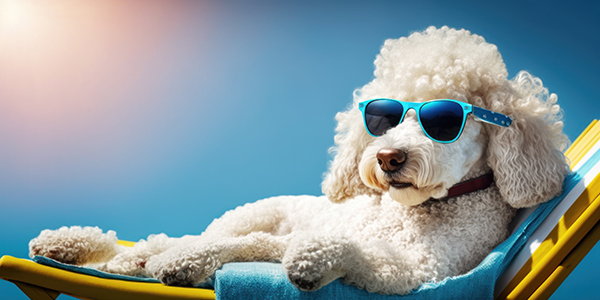 Summer is a fun time for you and your pets. Simply being able to get outdoors and enjoy the sunshine and good times makes everyone feel happier. Although your pets probably love the warmer weather, they can also be uncomfortable when temperatures turn hot and the air is saturated with humidity. Whitworth Animal Clinic in Madison, AL recommends you follow these tips for your four-legged friends when northern Alabama temperatures start heating up.
Never Leave Pets in the Car When Shopping
Even on a moderately warm day, temperatures inside a vehicle can rise to dangerous levels. The Humane Society of the United States notes that on an 85 degree day, temperatures can reach over 100 within 10 minutes. Don't be tempted to leave your pet in the car with the windows open or with the engine running and the air conditioning on. Leave your pet at home in the summer when doing errands.
Pay Attention to Humidity Levels
Unlike humans, animals pant to cool themselves. When humidity levels get too high, they are unable to cool themselves efficiently. Heatstroke can happen quicker in humid conditions. Signs of heatstroke include heavy panting, glazed eyes, racing heartbeat, excessive thirst, fever, lack of coordination, profuse salivation and vomiting. Very old and very young pets are more prone to heatstroke, as well as certain breeds and dogs or cats with short muzzles.
To avoid heatstroke, limit exercise and play on hot and humid days. Also provide plenty of water and make sure that your pet has a place to sit in the shade if you are going to be outside for extended periods of time.
Apply Sunblock
Even with fur, pets can suffer sunburn too. The top form of cancer in dogs and the second one in cats is skin cancer. Pets with light skin and short or thin hair are particularly prone. Ask Whitworth Animal Clinic to recommend sunscreen made specifically for pets. Similar to formulations for humans, pet sunscreen should be fragrance free, non-staining and should contain UVA and UVB barriers.
Increased Chance of Infections and Injuries
Because your pet is more active, we tend to see more infections and injuries at the clinic during the summer. Be particularly vigilant around lakes and streams with lots of vegetation and exposed roots. Avoid lakes and ponds with blue-green or scummy water as these have a high level of algae, which produce toxins that can make your pet sick if ingested or can infect a previously minor cut.
Also be aware of rip currents or rip tide in the ocean that can sweep away your dog in an instant. If you have a small dog, think about putting a life vest on her to help her swim in such conditions.
If your pet suffers any kind of injury or summer illness, bring him into Whitworth Animal Clinic immediately. We provide a variety of veterinary services that will keep your pet happy, health and carefree for years to come.