What To Do, What Not To Do in Hot Weather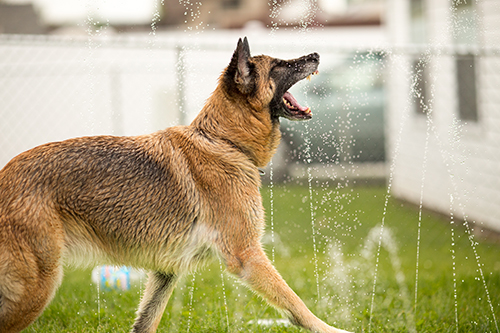 Summer is a great time to get outdoors and enjoy the sunshine and hot weather with your pet. Daily exercise is beneficial for your dog, but there are some safety issues to be aware of when taking that summer stroll on especially hot days.
Decrease The Duration of Your Walks in Hot Weather
Instead of taking your usual 30-minute walk in 90-plus-degree heat, shorten your exercise time in half. Your dog's paw pads can become burned if you walk along the street or on an asphalt path. Certain pavement materials can become extremely hot, burning the bottoms of your pet's paws and causing pain for days afterwards. You can check the temperature of the ground surface by placing your hand or bare foot on the ground and leaving it there for five seconds. If you can't tolerate that heat for that long, neither can your dog. Some options to walking on ground that is too hot are to take your stroll either early in the morning before the sun's heat reaches its peak, or in the evening after sundown. Most important is to keep your walks shorter than usual if you must walk your pet on a blistering hot day, especially on asphalt or cement surfaces. Your pet can also wear doggie boots to protect his feet. Booties are great in the winter cold, but can also isolate heat.
Hydration Is Key
Dogs cannot sweat in order to naturally cool themselves off. Instead, they pant. Even if you've shortened the duration of your walk, check on your dog's status when it's very hot outside. You'll see that your dog has become overheated and possibly dehydrated if she is drooling a lot. She'll also move more slowly, have reddened eyes, and may even look a bit pale. Hot weather requires additional hydration for your pet.
If your dog has a dark coat, he will absorb more heat than lighter-coated dogs. A pet that is overweight is also more at risk for dehydration. Always carry a cool bottle of water and dog drinking cup with you on a summer's day stroll, so you can ensure adequate hydration for your pet.
If you must drive to a location where you enjoy walks with your pooch, be sure never to leave her in a parked car, even for a few minutes or even if the car is in the shade. Not only can she become overexcited looking at people walking by, but she can also become panicked, which will put her at risk for dehydration.
This can become serious issues, especially if not treated right away. If you believe your dog has heatstroke and/or is dehydrated, contact Whitworth Animal Clinic in north Alabama for advice and possible treatment.
If you live in Madison or surrounding areas in north Alabama, the professionals at Whitworth Animal Clinic are available to help with all of your pet's needs. Our full-service clinic is available to the communities of Madison, Huntsville, Decatur, and surrounding areas in north Alabama, offering preventive health care, check-ups, and consultations.