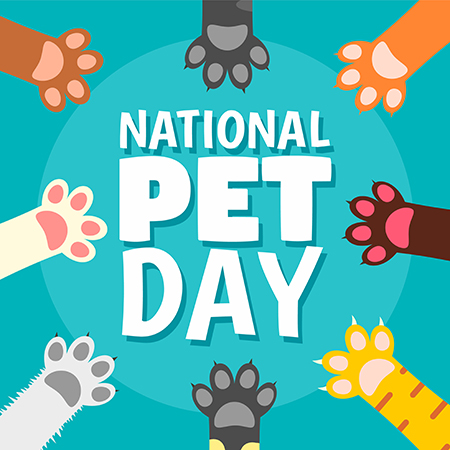 April 11th is National Pet Day! So show your pet some extra love today!  We celebrate National Pet Day, although in the eyes of pet parents, every day is dedicated to our friends with fur, fins and feathers. In addition, Dr. Whitworth loves caring for your dogs and cats by keeping them healthy providing regular pet exams, vaccinations, and and medical treatment.
Over the past 10 years, the National Institutes of Health (NIH) has been a partner in research to determine the physical and mental benefits of having a pet. It turns out that not only can pets steal our hearts, but they also contribute to overall cardiovascular health by lowering cortisol, cholesterol, and blood pressure levels.
What special ways can you show your pet how valuable they are to you? Whitworth Animal Clinic offers some suggestions for you!
Show Your Dog You Really Adore Them
Tame your tail-wager's locks by giving your pup a "paw-dicure" Do this by regular brushing, bathing, and nail trimming to keep your canine companion clean and healthy.
Plan a puppy playdate: fun with other pooches will help to develop your pup's socialization skills. You may want to hire a trained professional to be present to make sure the bawwowing buddies are on their best behavior.
Enjoy a stroll with your canine companion: a walk with your furry friend is a good form of exercise for both pup and owner.
Show your appreciation with a bit of bling: find a dazzling new collar or leash that your dog can show off to his or her four-legged friends.
Keep up with your dog's health with a check-up: remember that regular vet visits will help to ensure your pet's well-being. You can visit Whitworth Animal Clinic to keep your dog's health up to par!
Tips on Different Ways to Show Your Cat Love:
Give your indoor cat a safe place to sit in the sun and admire birds. A kitty playpen is a great investment for those cats who love the outdoors.
Litter box improvements take the stench out of your cat's restroom routines. Allow your cat enjoy litter that's always fresh.
You're not the only one who loves sushi, your cat does too! Give him or her a safe, delicious snack containing real tuna.
Your cat loves to be above the ground while snoozing. Make an impressive space for your kitty with an awesome cat bed (and make sure it is machine washable).
Picky cats really enjoy fresh water, so always have it available, but no ice in it!
Does your cat scratch up all your furniture? Give him or her a place to play and scratch away with a special scratching post.
Give your indoor cat a place to work-out. Combine their exercise and naptime by getting a multi-level play area with nap zones for amazing playtime for an indoor cat.
Show your cat your gratitude with a home cooked meal, especially if he or she has health issues. Find a delicious recipe in a cookbooks for pets.
Felines love to chase things. Find a creative toy that utilizes your cat's natural curiosity to fuel a never-ending hunt to keep them busy.
Cuddle, cuddle, cuddle.
Make sure you bring your pet in for vaccinations and well pet exams! Whitworth Animal Clinic is located in Madison, Alabama serving patients from Madison, Huntsville, and surrounding Madison County areas.