You May Be Able to Save Your Pet's Life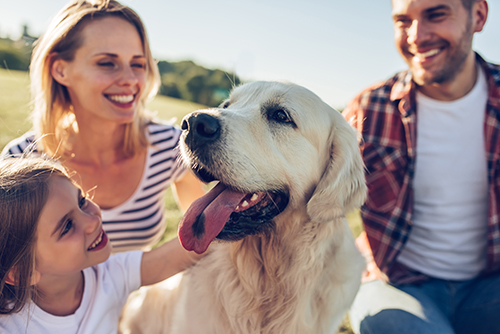 The pet cancer awareness month of May helps pet owners stay informed of their pet's risk for cancer, symptoms, and treatment options. By being aware of your pet's risk for cancer, you may be able to save your pet's life in the future.
 Many pet parents are unaware that pet cancer is so prevalent among our furry family members. In fact, cancer is the #1 disease-related threat to the lives of our dogs and cats, with millions of pets being diagnosed every year. Our pets can be vulnerable to different types of cancer, including skin, bone and lymphoma, so it is crucial to know the warning signs.
As many as 50% of pets over 10 develop cancer. Pet owners should read and learn about their pet's risk for cancer, symptoms, and treatment options.
The more you know, the better equipped you will be to make an educated decision about your pet's health, and the better your chances of saving your pet's life.
You can also take steps to reduce your pet's chances of developing cancer. Some of these steps include:
Brush your pet's teeth regularly.

Bathe your pet regularly.

Feed your pet a healthy, balanced diet.

Keep your pet away from environmental factors that may trigger cancer.
Symptoms of Possible Pet Cancer
Sudden Weight Loss
Loss of Appetite
Repeat Diarrhea
Lumps or Swelling
Swollen Legs or Feet
Discuss Concerns With Dr. Whitworth
Consulting with Dr. Whitworth can also be more beneficial than you think. For example, you can use this time to ask him about your pet's cancer treatment options. In most cases, treatment is possible, and pet owners should educate themselves on the subject.
No one likes the thought of their pet suffering from cancer. However, if you're aware of your pet's risk for cancer and risk factors, symptoms, and treatment options, you may be able to save your pet's life. As you can see, there is a lot to know about pet cancer.
Annual Checkup for Your Pet
A yearly checkup is the best way to keep your pet as healthy as possible – because it's much easier to prevent disease than to treat it. With regular checkups, Dr. Whitworth can spot problems at their earliest stages, when issues can often be addressed simply and cost effectively. So, whether your dog frolics at the park with all the neighborhood pups, or the closest your cat gets to the great outdoors is a sunny windowsill, every pet needs to see their vet – at least once a year!