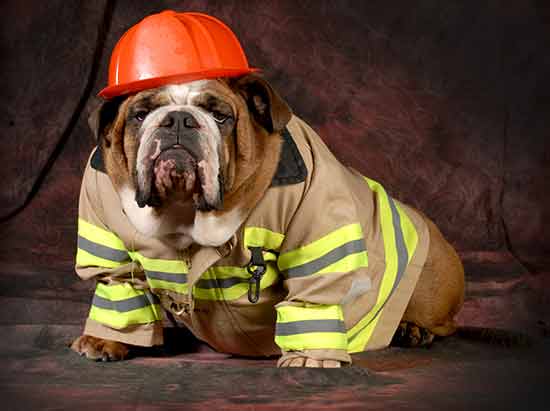 Pet Fire Safety Day is July 15, 2021. Statistics compiled by the National Fire Protection Association estimate that over 500,000 pets are impacted in home fires each year, with about 1,000 fires actually started by the pets accidentally. Jointly, the American Kennel Club® and ADT Security Services are committed to spread awareness on ways pets can start home fires; how to prevent this from happening; and ways to protect your pet in home emergencies, such as fires. According to AKC spokesperson Lisa Peterson,
"Planning for unexpected emergencies like home fires and taking these precautions are an integral part of responsible pet ownership".
The Curiosity Factor
We all know that pets are generally curious and are prone to investigate food preparation and eating areas, stoves or cooktops, candles, cables and wires, an ashtray, or even a fire in your fireplace. Food left on a counter or on the stove are extreme temptations many pets can't ignore. Stoves and cooktops have been found to be the number one type of appliances involved in pet originated fires.
Tips for Fire Prevention and Safety
There are a number of simple measures homeowners can take to help prevent pet initiated fires, as well as protecting your pet's safety in case of an emergency or fire.
Pet Caused Fire Prevention
•   Extinguish open flames – Never leave your pet unattended around an open flame
•   Remove stove knobs – or cover them before leaving the house if your pet is large enough or agile enough to reach them.
•   Invest in flameless candles – Swishing tails, especially cats on counters, can easily knock over a lit candle.
•   Do not use clear glass water bowls on wooden decks – Most people would never stop to think that rays of sun can heat up the water in the dish when filtered through the glass. A wood deck below the dish, in extreme temperatures, may actually ignite. Stainless steel or ceramic bowls are a better choice.
Protect Your Pet from Fires
•   Confine Young Pets – When you leave the house keep young pets, in particular puppies and kittens, in a confined environment such as a crate or behind a baby gate. They should be secured away from potential fire-starting hazards, so the kitchen may not be a good choice if they aren't crated.
•   Keep Pets Near Entrances – Keep a collar on pets at all times and store leashes in a visible location in the event firefighters need to rescue your pet. When you are away from home, make sure they can be accessed from entrances where they can be easily found and rescued. Don't lock them in rooms upstairs, in back rooms, or interior basement spaces.
•   Consider using monitored smoke detectors – since pets usually cannot escape a burning home unless there is an open pet door, smoke detectors connected to a monitoring center in addition to your regular smoke detectors can alert emergency responders when you're away from home.
•   Affix a Pet Alert Static Window Cling to a front window – Provide the number and identifying characteristics of each of your pets inside your house to facilitate a rescue.
For many of us, pets are our most precious asset so it makes sense that we would dedicate a day to keeping them safe during one of the scariest things we can imagine. We all want to keep our fur babies safe.
If your pet has been exposed to a fire or other emergency situation, immediately contact Whitworth Animal Clinic serving Madison, Huntsville, Decatur and other surrounding areas for emergency care. We will evaluate your pet for symptoms of smoke inhalation, dehydration, burns, or other injuries.