Healthier Treat Alternatives
Best Treats for dogs during the Holidays. With all the family and friend celebrations, you'll probably want to slip your dog a few bites under the table. Resist! Instead offer some healthy alternatives.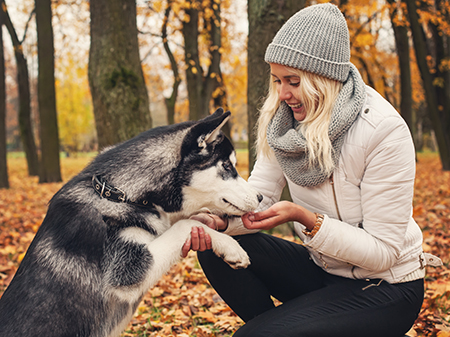 Dog owners enjoy giving their beloved pets treats for many different reasons especially at holiday times.  People may feel compelled to give a treat to canine companions when they feel inclined to indulge. However, while there is nothing wrong with rewarding a pet, the type of snack chosen may not have the greatest health benefits. Dr. Charles D. Whitworth, DVM and his associate animal lovers from Whitworth Animal Clinic suggest that dog parents consider other options.
Best Healthy Treats for 2022
Commercially prepared treats come in all brands, flavors, shapes and sizes. but some treats are a lot healthier than others, and some can be downright dangerous to your pet's health. With so many choices to pick from and an industry that's always changing, it can be challenging to find a healthy treat that you and your dog approve.
Best Treats for Dogs:
Blue Buffalo Health Bars – The Blue Buffalo 801857 Health Bars Crunchy Dog Treats feature real bacon and all-natural ingredients.  These treats contain plenty of vitamins and minerals and are omega-3 fortified, which can help with brain and eye development and has plenty of other benefits as well.  There is no BHA, BHT, or other chemical preservatives.
Hill's Grain Free Dog Treats – soft treat that's easy for your pet to manage. There are no harmful preservatives, and they don't contain wheat, corn, or soy, which can cause reactions in dogs.
Eukanuba ACTIVTrainer Salmon – Good for helping to trim down your pup while still being able to give them a treat.  Supports lean muscles for active dogs with high-quality animal protein and salmon as the first ingredient.  Formulated by nutritionists to help fuel your dog's body and mind.
Pet Botanics Training Reward Bacon Flavor Dog Treats – Choice of top trainers: provides focus, motivation, and a shorter learning curve.
Perfectly sized for repetitive reward training at just three calories per treat and over 500 treats per bag
Healthy and nutritious: made with real pork liver and enhanced with BotaniFits, a natural nutrient blend
Original Milk Bone – This meaty flavored favorite has a crunchy texture which helps clean teeth and freshens breath. Has 12 vitamins and minerals.
Various fruits and vegetables make a wonderful alternative. Consider apple or banana slices, a fresh strawberry or a piece of melon. Not unlike when we eat fruits, remove seeds and pits, which can pose a toxic hazard. A couple of baby carrots, green beans, or tomato slices are some of the different vegetables that are safe for dogs. Maybe a spoonful of yogurt now and then. Many dogs also enjoy popcorn without the butter or salt.
All of these options provide fiber, vitamins and minerals that traditional store-bought treats lack. Avoid grapes and raisins, as chemical compounds within these fruits can lead to kidney problems. Dogs should also not eat cooked vegetables containing garlic or onions. The root vegetables cause anemia by destroying red blood cells.
Individual canines develop preferences. Some dogs gleefully enjoy anything offered. On the other hand, finicky pets might only prefer certain fruits or vegetables. Have fun experimenting.
Homemade Treats
There are many recipes available for homemade dog treats. By making homemade snacks, you have complete control of the ingredients and can make alterations as desired. Look for recipes containing healthier ingredients. They might include cooked meats, eggs, fruits, vegetables and grains.
Whatever healthy treat you decide to use as a reward for your four-legged friend, the snack should not exceed 10 percent of the animal's daily calorie intake.
Non-Food Rewards
Given the hectic schedules that we humans maintain on a daily basis, we may not spend as much time with our dogs as they would prefer. With this in mind, rewards and treats need not always be food oriented. Set time aside to spend special moments with your companion. Go for a walk or a run. The exercise does both you and your pet a world of good. Perhaps pamper the pooch with a little extra grooming time. As dogs love having our undivided attention, any time spent one-on-one will be as much appreciated as a food-based delight.
If having any questions or concerns, faithful dog owners living in Decatur, Huntsville, Madison and other surrounding locations in north Alabama should call the Whitworth Animal Clinic and arrange a visit with Dr. Charles D. Whitworth DVM. We are located at:
106 Rainbow Drive
Madison, Alabama, 35758
256) 830-1503