Pet Dental Tips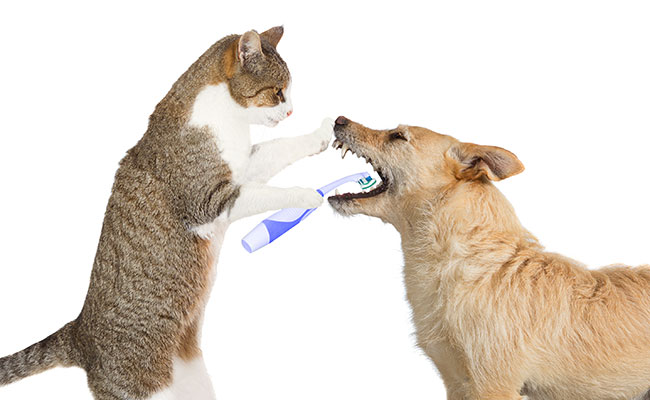 Pet dental tips include regular brushing with a dog-specific toothbrush and toothpaste, and so do certain toys and treats that are formulated to reduce bacteria in your pet's mouth.
The American Veterinary Dental College (AVDC) emphasizes the importance of between-checkup home pet dental care for your pet's comfort and safety. The truth is, having your pet's teeth cleaned during vet checkups simply is not enough to ensure good oral hygiene. Only with regular, consistent mouth care can you keep plaque, tartar, and more serious health conditions like periodontal disease at bay. Follow these tips to safeguard your pet's oral health.
Ask Dr Charles Whitworth About Oral Hygiene Between Checkups
You should follow the schedule Dr. Whitworth gives you for regular teeth cleaning appointments. He can also give you specific guidance about home pet dental care. For best results, ask your him to recommend a routine you can follow between appointments. They may even have specific products they want you to use based on your pet's unique oral health needs.
How to Tell When Your Dental Health Routine is Not Enough
The ASPCA gives 10 specific guidelines to ensure your pet has good oral hygiene and dental health. The ASPCA recommends that you regularly smell your pet's breath, examine his or her teeth and gums, follow Dr. Whitworth's recommended oral health diet, know how to brush your pet's teeth properly, and offer chew toys in between brushing.
Different Types of Products for Your Pet's Oral Health
You can choose from many different types of products that can help your pet's mouth, gums, and teeth stay strong and healthy between medical teeth cleanings. Some products are dental chews. Others can be added to the food or water. Still others are built into the food your pet eats. You can also supplement with a special toothpaste just for pets. According to veterinarian at Whitworth Animal Clinic, under no circumstances should you ever try to brush your pet's teeth with human toothpaste.
A Brief Oral Health Product Overview
Knowing what pet dental products to choose when can be very helpful.
[arrow_list]
Pet toothpaste. Using a special pet toothpaste with a dental kit for pets is the best way to keep your pet's teeth clean between vet visits.
Dental chews. Chewing not only reduces plaque and tartar buildup but also keeps stress levels manageable.
Powders, food, or liquids. Liquids can include oral rinses and powders can be dissolved into water or food, making this a very easy oral health regimen for skittish pets
[/arrow_list]
You can contact Whitworth Animal Clinic to learn more about at-home dental health for pets and set up a checkup for your pet. They are located at 106 Rainbow Dr. in Madison, AL 35758. Call 256-830-1503 to schedule an appointment.