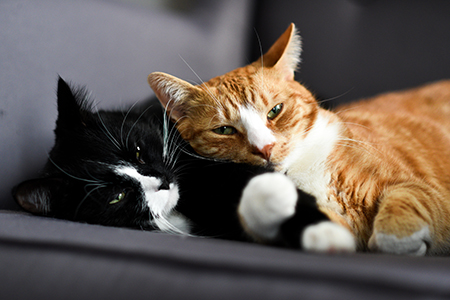 Whitworth Animal Clinic is joining cat lovers and animal health & welfare organizations nationwide to celebrate and spoil our furry feline companions during the month of September 2022. To show dedication and unconditional love to cats everywhere, owners can take advantage of new, creative approaches to entertain, pamper, and maintain optimal health all year long. Let's face it – if our cats are happy, we are happy! Whitworth Animal Clinic recommends you incorporate some of the following tips into your household to enhance your cat's well-being.
Toys: Provide toys that spark curiosity and keep cats engaged. Texture, color, scent and movement allow pets to use their primal instincts and sensory skills. Cats that have plenty of opportunity to "stalk" and "hunt" maintain healthy mental attitudes.
Outdoor Stimulation: Those of us that keep our pets indoors know how excited they get when they see birds, squirrels, or other small animals. Natural stimulation such as viewable birdhouses or birdfeeders can provide hours of interesting entertainment.
Bedding and Hiding Places: Cats are very finicky creatures and will carefully investigate any new bed, hiding place, or perching surface to make sure that it is not intimidating or threatening. Once thoroughly inspected without perceived threats, cats will show physical signs of satisfaction by "making biscuits", "treading", "purring", and rolling on their new domain.
One-on-One Time: People that own cats know the benefits of living with their fluffy friends. Studies have shown that people who live with cats have a 40% lower chance of suffering a stroke or heart attack. Also, animal behavioral experts recommend that owners spend at least 30 minutes per day playing or petting their cats to maintain a bond.
Diet and Treats: Whether a cat eats dry or wet food – it should contain required vital ingredients to maintain optimal health. Foods that contain fillers and artificial components not only lead to digestive issues and obesity, but often over a period of time cause early signs of disease. At Whitworth Animal Clinic, we carry several lines of recommended veterinary diet products to maintain your cat's health at any stage of their life, as well as respond to special dietary conditions that may arise.
Preventive Care: Annual pet wellness visits to Whitworth Animal Clinic can help detect health problems early and potentially save your cat's life. Standard deworming, vaccinations, and physical examinations only take a few moments to complete. Afterward, you and your cat can go home, have a treat, and snuggle up!
If you already have a cat, how about adopting a pal for your feline friend? There are so many cats available in shelters in the Madison and northern Alabama area waiting for someone to give them a forever home. Dr. Whitworth believes if you are spoiling one cat, why not spoil two? Dr. Whitworth and the staff at Whitworth Animal Clinic will work with you to make your cat happy!